SBbet i Booongo Gaming su ti pripremili globalni kazino turnir sa nagradnim fondom od 120.000 eura!
Pravila i uslovi
Vrijeme trajanja promocije: 14.04 od 00:01h – 21.04 do 23:59h
Nagradni fond od 120.000 EUR će se raspodijeliti na 8 turnira sa sledećim pojedinačnim trajanjem: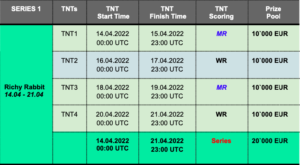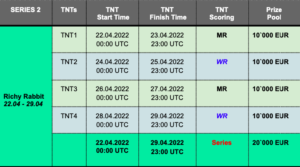 Slotovi koji učestvuju u promociji:
Sun of Egypt 3, Pearl Diver 2, Queen of the Sun, Sun of Egypt 2, Magic Apple, Hit_the Gold,15 Dragon Pearls, Black Wolf, Dragon Pearls, Sun of Egypt, Aztec Sun, 3 Coins
Gold Express, Tiger Jungle, Scarab Temple
Kako se kvalifikovati za turnir?
Sledeći uslovi su potrebni da se ispune kako bi mogli učestvovati u turniru:
Minimalni Bet – 0.50 EUR
Minimalni broj spinova – 100.
Kako se dobijaju poeni?
Igrači dobijaju poene za svaki dobitni spin.
1 EUR – 1 POEN
Primjer:
Ukoliko je igrač sa ukupnim ulogom od 1 euro osvojio 120 EUR, igrač osvaja 120 POENA.
Tabela
U toku trajanja turnira, stanje na tabeli se ažurira u realnom vremenu sa svakim odigranim spinom.
Ukoliko igrač nije ispunio uslove potrebne za učestvovanje na turniru njegovo ime će se prikazivati na tabeli ali u sivoj boji.
Nagradni Fond
Nagradni fond od 120.000 EUR će se raspodijeliti na 8 turnira na sledeći način:
Za svaki pojedinačni turnir nagradni fond je 10.000EUR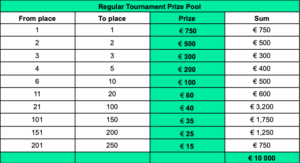 Pored poena koje možete osvojiti na svakom pojedinačnom turniru, takodje se dobijaju extra poeni ukoliko budete učestvovali na svakom od 8 turnira.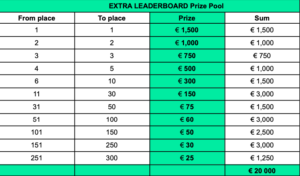 U svakom trenutku će vam biti prikazane dvije tabele:
Jedna za pojedinačni turnir i druga za ukupni dosadašnji skor na svim turnirima.
Sva ostala SBbet Pravila i Uslovi korištenja važe uporedo sa ovim Uslovima korištenja promotivne akcije "Prvi tiket ne pada"
SBbet zadržava pravo da u svakom trenutku izmijeni pravila kao i da prekine promociju.